Rotary X-Switch
The Tech Connect Rotary Bypass X-Switch is an excellent UPS bypass switch. It offers smaller size and lower cost, but still provides all the safety functions of the Premium X-Switch. The main difference is that there are no circuit breakers - it doesn't provide fault protection, just switching.
Unlike circuit breakers, the rotary switch is built to provide Make-Before-Break operation - so the load always stays up when switching from one position to another. No Kirk Keys are needed, so the operation is quick and safe. There is a Solenoid Latch system, so you can't rotate the switch unless the UPS is internally bypassed. This is totally simpler to operate than a breaker bypass system.
The Rotary X-Switch is a 3 position UPS Bypass Switch, with selections for Normal, Test, and Bypass. Utility Power comes into the X-Switch, then into the UPS. UPS Power goes back into the X-Switch, then to your critical load. When you rotate the switch to the Test or Bypass positions, your load gets power directly from the Utility, through the X-Switch - not from the UPS.
In the Test Position, input power still goes to the UPS so you can test its operation, but the load doesn't receive power out of the UPS - it gets bypass power from the utility. In the Bypass Position, the UPS input and output are both cut off from the utility and the load - the UPS is isolated. The load runs on utility power but the UPS is de-energized. (Except for the batteries.)
We can build Rotary X-Switches for single or three phase UPS's, up to sizes of 765 Amps.
The Rotary X-Switch can be in a wall mounted or rack mounted panel.
We can also include these options:
SRU Solenoid Release Unit

Aux Contacts

19" Rack Mount

Break-Before-Make operation

Output Distribution

Parallel Tie Cabinet with multiple input & output breakers for multiple UPS's
Call us for pricing - this is an excellent new product from Tech Connect, your premier UPS Bypass Switch provider.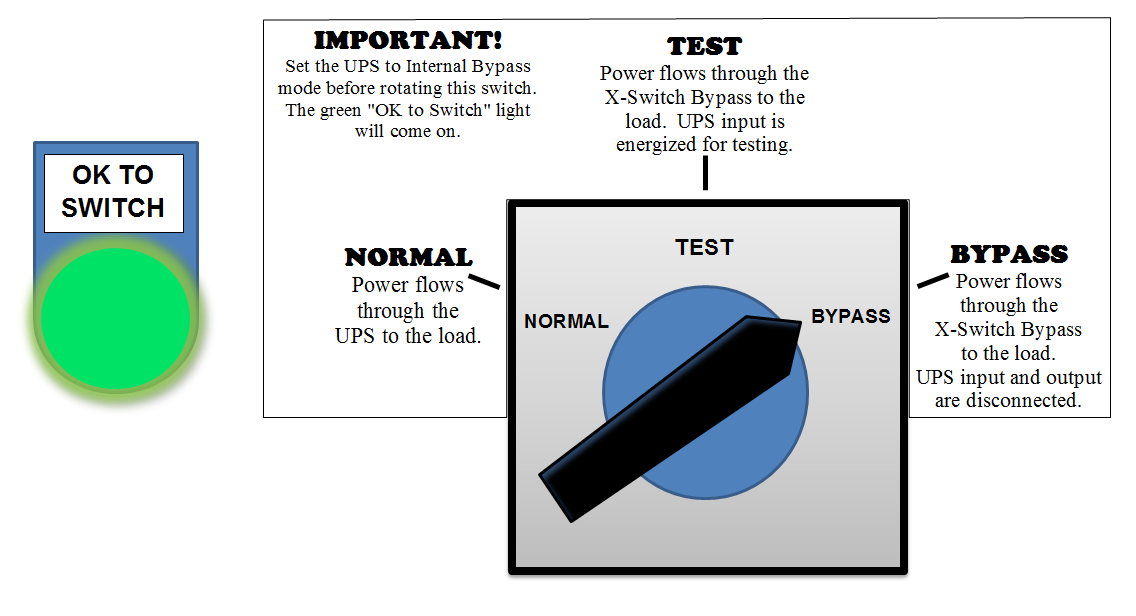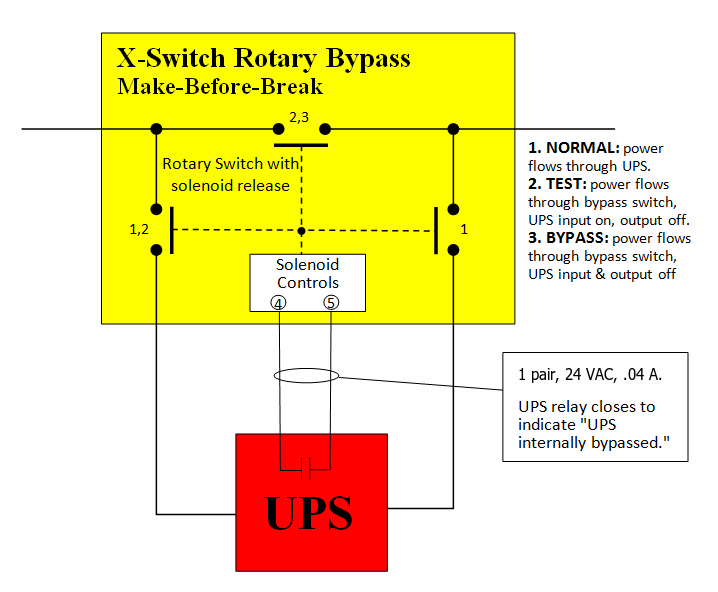 X-Switch Rotary Bypass for 1 or 3 Phase UPS with Input Power to the UPS, up to 600 VAC
3 Pos Make-Before-Break (Normal-Test-Bypass), with door closing over the switch handle.

Amps
100%
rated

208 V.
max kVA
Diag 2
480 V.
max kVA
Diag 2
Size
without SRU
w x h x d
Size
with SRU
w x h x d
3 Pos 3 Pole for 3 Phase UPS - Wall Mount Enclosure
XSR3-60-3NW

60

22
50
14 x 16 x 11
14 x 16 x 11
XSR3-85-3NW
85
30
70
20 x 24 x 17
20 x 24 x 17
XSR3-130-3NW
130
46
108
20 x 24 x 17
20 x 24 x 17
XSR3-255-3NW
255
92
212
20 x 24 x 17
XSR3-510-3NW
510
184
425
36 x 48 x 20
36 x 48 x 20
XSR3-765-3NW
775
376
636






2 Pos 3 Pole for 3 Phase UPS - Bypass Only, no Test Position, no UPS input
XSR2-510-3NW
510
184

425

36 x 48 x 20
3 Pos 2 Pole for 1 Phase 120/240 V. UPS - Wall Mount Enclosure
208/240 V
XSR3-60-2NW
60
12/14
14 x 16 x 11
14 x 16 x 11
XSR3-85-2NW
85
17/20
20 x 24 x 17
XSR3-130-2NW
130
27/31
XSR3-255-3NW
255
53/61
XSR3-510-3NW
550
106/122
XSR3-765-3NW
775
159/183


XSR2-130-3SN
130 nakd

46

108

1499

14 x 18 x ??
XSR2-255-3SN
255 nakd

92
212
2183

18.2 x 18.2 x ??
(both include SRU & output terminal strip)
Rotary X-Switch with SRU provides BOTH safety features:

1st safety: Force Make-Before-Break operation

Rotary - automatic Breakers - add Kirk Keys
2nd safety: Force UPS bypass before switching

Rotary - add SRU Breakers - add SKRU & Kirk Keys
With Economy X-Switch (or anyone else's bypass) you get one safety feature or the other, never both.
Rotary - you give up Overcurrent Protection (no breakers), but it's much smaller and simpler to use
By adding the SRU, you get both safety features, without buying a Premium X-Switch.
Rotary: Switching to Bypass is MUCH SIMPLER than with breakers - just turn the switch handle!